AirCheck Texas Program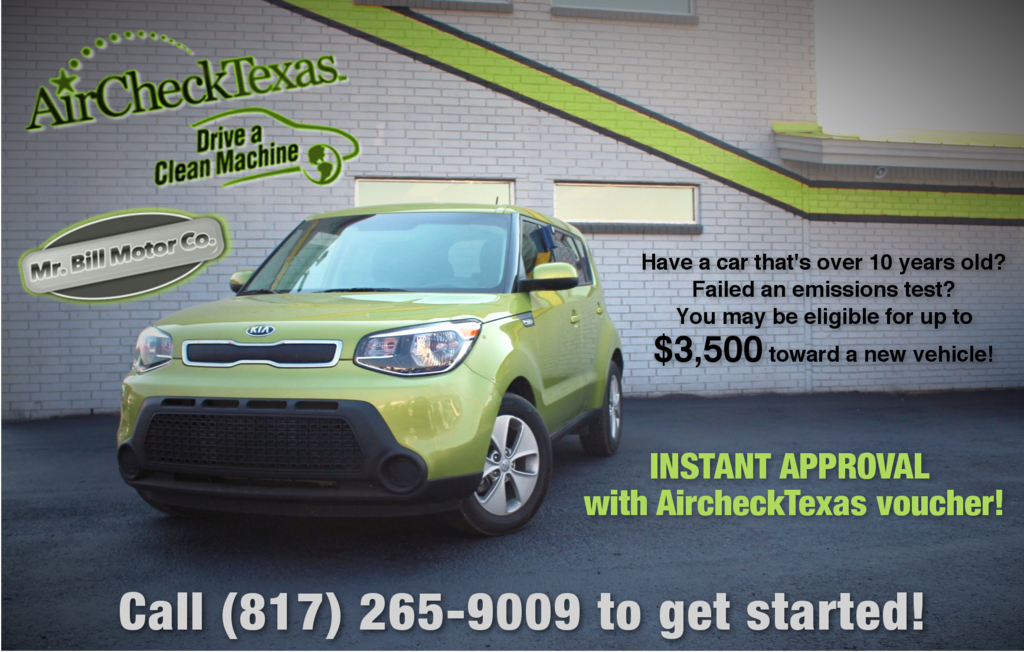 YOU MAY QUALIFY FOR UP TO
$3,500
TOWARD REPLACING YOUR VEHICLE!
Call us to learn more!


We will guide you through the application process to ensure that no mistakes are made, and that you receive your voucher as soon as possible. contact us with your expired vouchers as well!
NEW!

Vehicles eligible for $3,500 voucher:
ALL 2014 volkswagen Passats
ALL 2014 volkswagen jettas
Your Vehicle must meet these Conditions:
Vehicle must be drivable and gasoline powered
Currently registered in a participating North Texas county area for at least 12 of the past 15 months preceding application.
Passed a DPS motor-vehicle safety inspection or safety and emissions inspection within 15 months of application.

AND EITHER

Failed an emissions test within the past 30 days of the application date
Is at least 10 years old or older.
If you meet the above requirements, the following vehicle-replacement assistance may be provided:
$3,000 for a car, current model year or up to three model years old
$3,000 for a truck, current model year or up to two model years old
$3,500 for hybrid vehicle, current or previous model year
Participating North Texas counties include: Collin, Dallas, Denton, Ellis, Johnson, Kaufman, Parker, Rockwall, and Tarrant
AIRCHECKTEXAS DRIVE A CLEAN MACHINE PROGRAM
REPLACEMENT VEHICLE REQUIREMENTS
PLEASE READ CAREFULLY
Replacement vehicle requirements change on September 1, 2015. This affects the model year, vehicle type, sales price, and mileage of the replacement vehicle being purchased using a voucher. All replacement vehicles must meet the following requirements.



Program Requirement

Vehicle Purchase Date
on or
After September 1, 2015

1

Replacement Vehicle
Voucher Amount &
Model Years

2

$3,000
Cars, SUVs & Minivans
Model Years:


2013, 2014, 2015 & 2016



Trucks Model Years:


2014, 2015 & 2016


(no 2013s)




$3,500


Tier 2 Bin 3 or Cleaner Vehicles (Hybrid, Electric,
Natural Gas Vehicles)
Model Years:


2013, 2014, 2015 & 2016



Replacement Vehicle
Emissions Standards

2

Tier 2 Bin 5 or Cleaner
Vehicles
Replacement Vehicle
Maximum Sales Price
(After rebates, dealer incentives/discounts, etc.)

$35,000


Tier 2 Bin 4 & Bin 5 Vehicles
(Vehicles Eligible for $3,000 Voucher)


---

$45,000


Tier 2 Bin 3 or Cleaner Vehicles
(Vehicles Eligible for
$3,500 Voucher)
Replacement Vehicle
Mileage Limitation
70,000 Miles or Less
Replacement Vehicle
Gross Vehicle Weight
10,000 Pounds or Less; Intended for Everyday Use

3
The 82nd Texas Legislature passed House Bill 3272 making program modifications effective.
Visit www.nctcog.org/airchecktexas for a list of eligible replacement vehicles by model year. Available model years will be changed every year on September 1.
Buses, campers, recreational vehicles, and motorcycles are not considered vehicles for everyday use for purposes of the program.
Current Income Guidelines for Assistance
(These income amounts change annually)
Number of people
in household

Annual household income* requirements (at or below)

1
$35,310
2
$47,790
3
$60,270
4
$72,750
5
$85,230
6
$97,710
7
$110,190
8
$122,670
Over 8
Add $12,480 for each
additional person
* As determined by using the Adjusted Gross Income (AGI) on the most recent Federal Income Tax form. For other forms of income documentation, only the same qualified deductions that are used to determine AGI may be used to determine financial eligibility.
Note: The replacement vehicle value may effect eligibility requirements and/or benefits for financial assistance programs,such as Temporary Assistance for Needy Families. Please contact your case worker if you have any questions.